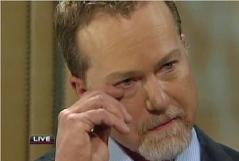 Yesterday Ken Rosenthal gave Mark McGwire an ultimatum: repent or resign.  I had missed the fact that, earlier in the day, Peter Gammons had thrown a log on that same fire, calling McGwire a "distraction," questioning whether his presence on the Cardinals is sustainable and, as a grand finale, saying "McGwire, La Russa, Mozeliak, DeWitt and Selig had better sit down and
think it through, because less than two weeks into the return of Big
Mac, this has all the feel of Tom Eagleton."
For you kids who don't remember the 1972 Presidential campaign, Tom Eagleton was a U.S. Senator from Missouri who was picked to be Democratic nominee George McGovern's running mate.  He was forced off the ticket, however, when it was revealed that he had been hospitalized for serious mental health difficulties, had suffered from manic depression and suicidal tendencies and had been prescribed anti-psychotic drugs.
McGwire = Eagleton?  Really Peter?  A hitting coach who took some PEDs a few years ago inspires a comparison to a man with potentially debilitating mental health problems being a heartbeat away from the presidency?  Sure, why not.  But unlike Rosenthal, I'm willing to give Gammons a greater benefit of the doubt on this sort of thing because his commentary tends not to skew hysterical. To that end I'm assuming that Gammons is referring to the media circus that is developing around McGwire and isn't making some sort of moral or psychological equivalence.
But of course there will be a media circus when spring training starts. Of course McGwire will be a "distraction," to use Gammons' term. But it's not because there's anything relevant left to report about Mark McGwire's steroid use or anything else he should be obligated to add. It's because everywhere McGwire goes, people like Rosenthal and Gammons will fulfill their own prophesies, jumping up and down, madly pointing and shouting "Look! A distraction!"