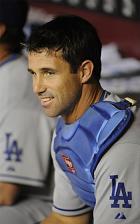 So tweets Dylan Hernandez of the L.A. Times. He'll earn a base salary of $850k and there's a mutual option for 2011.
Ausmus actually had a decent year with the stick by his standards in 2009, although it was in exceedingly limited play (.295/.343/.368 in 107 plate appearances). Before that, you're looking at basically a solid decade of awful production, a good year or two back in the late 90s, and then a lot more nothin' before that.
But as I noted last month, Ausmus, despite his extreme limitations at the plate, always manages to find a job.  A lot of that has been because of his defense, but in more recent years I have no doubt that it's because of his work ethic. He has giant binders
on hitters' tendencies and studies them all the time, and by all accounts, he's the one of the most prepared and focused players in the game and spends tons of time teaching and helping his teammates. In this way he's a good clubhouse guy, not because of some vague chemistry consideration like so many others who get that label, because he's really valuable to have in the clubhouse for legitimately tangible reasons.
So sure, he may be 41 and he may not hit my daughter's weight, but there are probably worse guys to have occupy the 25th spot on the roster.