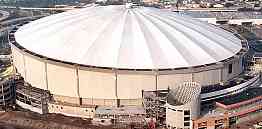 That's not really news, but it's now an Official Finding of a committee put together by a coalition of St. Petersburg business and community leaders.  One would think that such a conclusion could be reached upon one or two visits to Tropicana Field, but these guys have been studying the matter for eighteen months.  Though to be fair, that's a blink of an eye in committee-years.
And it's actually a handful of related findings, which include the following:
The Rays are "an economic driver" of the community and enhance quality of life for Tampa Bay area residents;
To stay competitive, the Rays need the higher
revenues that a modern, retractable roof stadium with lots of amenities
can generate. It's not a question of "if" the Rays need a new stadium, it's "when" and "how.";
Such a stadium would probably cost at least $550 million;
Tropicana Field is "nearing the end of its economically useful life," and renovation would be too costly;
To draw more fan and corporate
support, a new stadium should be closer to the Tampa Bay area's
demographic and business centers. The Pinellas Gateway, downtown Tampa
and west Tampa meet that criteria, but downtown St. Petersburg does not.
I don't take issue with any of these except the assumptions regarding the team's economic impact on the community.  The report says the Rays pump $200 million into the local economy.  As economists like J.C. Bradbury and others have repeatedly shown, however, such estimates are typically overblown, and often comically so. 
I think the Rays need a new ballpark because, generally speaking, their current one is a total drag. But let's make a deal: unlike we did with the other two dozen or so new ballparks that got built over the past 20 years, why don't we spend some time making sure that in this case the taxpayers aren't royally boned and the billionaires that run baseball aren't given yet another gratuitous bit of corporate welfare.
The linked story in the St. Petersburg Times provides a good start in the form of a chart which provides some critical context to the committee's findings. Here's hoping it doesn't stop there, and that the reporters who spend so much time complaining about how steroid users have stolen from history spend at least a little bit of time preventing baseball owners and allied business interests from stealing from the public.
And if the people of St. Petereburg do balk? Hey, it's not like the Rays don't have options.