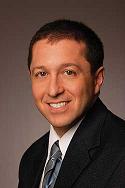 I'm a huge fan of Ken Rosenthal the reporter. I think he works harder than anyone in the business and, more than anyone, when he passes on a nugget of news, you can bet that it's going to pan out. Personally speaking, he's always been gracious with me despite the fact that I've been critical of him from time to time. 
That criticism comes when Rosenthal takes off the reporting hat and puts on the commentator hat, where I think he frequently gets things wrong. Things like this:
McGwire, then, faces a choice.  Resign as hitting coach and
return to seclusion before even tinkering with one swing — a copout. Or
hold an actual news conference — his six-minute effort at the
Cardinals' winter warmup hardly qualified — and concede that, sure,
steroids helped him in some way . . . All anyone wants to hear is Big Mac acknowledge the drugs made a difference in his performance. Any other explanation insults our collective intelligence.
If it's so damn obvious, why does Rosenthal or anyone else need to hear it?  Does Rosenthal demand that ballplayers who look to the sky after crossing the plate admit that their grandmother's ghost didn't really help them hit the homer?  Does he demand that Fernando Valenzuela admit that breathing through his eyelids did not help him win all those games?  Does he demand that Wade Boggs come to grips with the efficacy of eating fried chicken before ballgames?
It's undeniable that steroids helped Mark McGwire in some capacity. We can't know how much, of course, but it's ridiculous to think that they didn't help at least somewhat. Indeed, Rosenthal himself concedes that he doesn't need Mark McGwire to tell us that.  Nevertheless, he persists with this "McGwire must say it himself" stuff. Rosenthal even crafts what he feels would be an acceptable confession by McGwire.  It contains nothing new and nothing that doesn't obviously follow from what McGwire has said and what our own reason can easily supply.  At any rate it proves beyond a shadow of a doubt that Rosenthal doesn't need any more information than McGwire has already provided in order to assess the situation thoroughly.
But this isn't about McGwire failing to provide enough information. This is not about coming clean. In demanding that McGwire admit what Rosenthal already knows to be true, this is about penance. Rosenthal demands that McGwire prostrate himself before him and the assembled baseball media and say exactly what they want him to say. If he cannot, he should be cast out of the church of baseball.
Personally, I don't think it's the media's job to provide anyone absolution. If that's what Rosenthal is interested in doing I suggest he follow Grant Desme's example and go to seminary school.