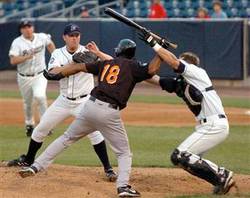 ESPN's Jorge Arangure links a Spanish language report in which Jose Offerman says that the umpire he struck had spoken badly about his mother. I took a bunch of Spanish about 20 years ago and forgot most of it, but I kind of got the gist from the article.  But to be totally professional about it, I put Offerman's quotes through Google Translate:
"He
mentioned my mother in the classic tone of someone trying to offend a
man, and that's where my reaction came to throw a punch."
OK, I think the nature of translation software makes Offerman sound a bit more formal than he likely is, so I'll paraphrase the rest:  Offerman says that there were multiple problems with the umps during the series, and that it all came to a head after his catcher, Ronny Paulino, was ejected after some argument with the home plate ump about a replacement ball following a wild pitch. Later, when Offerman comes out to argue with Daniel Rayburn — not the one who ejected Paulino, but the crew chief — Rayburn gave Offerman some derivation of "yo momma" and Offerman let fly. He says, however, that he never hit him, and that Rayburn's hitting the ground was a big show.
Maybe. The video certainly reveals the contact, if indeed there was some, to be minor at best, and it sure looks like Rayburn took a dive  Still, when you're Jose Offerman and you have a history destroying a freakin' player's life via an assault with a baseball bat, you're not going to get the close calls.