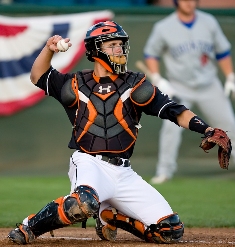 The San Francisco Chronicle's Bruce Jenkins freely admits that it's bar talk, not news, but it's bar talk season so let's hear him, um, talk:
Off-the-wall thoughts bouncing around the 3-Dot Lounge: What if Buster Posey is an infielder, in essence, and not a catcher? And what if he's
hitting .438 with 15 homers in Fresno around the first of June? . . . As catchers go, Posey is slightly built. It seems almost criminal to
shorten his career – or at the very least, torment his legs – by
keeping him behind the plate exclusively. He's a born hitter, and he
was an infielder until making the switch to catcher at Florida State.
He could play an acceptable shortstop at any level, he'd be absolutely
fine at third base, and a no-brainer at first.
I like "what-if" scenarios, and as I sit here right now I like to think what life would be like if Buster Posey was, say, a catcher-turned second baseman like Craig Biggio.  But I'm not sure Biggio was ever considered as good a defensive catcher as Posey is purported to be.* I haven't had a chance to see him catch, but  according to Keith Law's prospect rating last year, Posey "is a plus defensive catcher with a plus arm" and those don't show up on your doorstep every day, especially with a good batting eye and mid-range or better power.
In an ideal world, Posey is given a chance to start behind the dish — a chance even Biggio got, by the way.  Of course, the current San Francisco Giants' decision makers don't live in an ideal world. They live in a land where Bengie Molina is given the starting catching job until his having full time employment puts his Social Security benefits at risk.
*Biggio's conversion has been officially chronicled by history as "the Astros wanted to save his legs."  I don't know if that's really true or not, as I can't find a reference to Biggio's time behind the plate that doesn't treat the conversion like some super hero origin myth.  Maybe he just wasn't that good back there? Anyone who watched him more closely as a catcher back in the day care to weigh in?