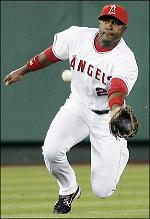 Buster Olney canvassed his scouting sources for their views on the Mets going after Gary Matthews, and sums up the feedback thusly:
He can't hit for average, can't hit for power, his defense ranks
statistically among the worst outfielders in the majors and, to top it
off, rival scouts have been reporting that in recent years he has been
a clubhouse negative.
Other than that, Mrs. Lincoln, how did you like the play?
Given that the Angels are picking up almost all of the dough it's not like he's going to kill the team or anything, but someone needs to explain to me why the Mets would give up a serviceable pitcher for a guy who will provide no more production — and likely quite a bit less production — than any of the youngins and quasi-youngins the Mets ran out there while Carlos Beltran was on the DL last summer.
Those guys are signing minor league deals.  Why couldn't the Mets have done that?