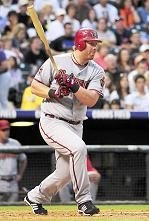 Buster Olney passes this along:  "Heard this: The Nationals have Josh Willingham back out on the trade market, perhaps to give them the option of shifting Adam Dunn back to the outfield."
Willingham just signed a $4.6 million deal to avoid arbitration. He hit 260/.367/.496 with 24 home runs, 61 RBI and a career-high .863 OPS in
2009, and though his defense is lacking, he's a useful player who would help a lot of teams and possibly provide some value back to the Nats.  They've shopped him in the past. They'll likely shop him again. It makes some sense.
But the impetus for this move can't be to move Dunn to the outfield, can it?  I mean sure, Dunn would probably be the absolute worst defensive first baseman in the game if they keep Willingham and left him there, but he'd do far more damage in left field, wouldn't he?  In 2009, Dunn had the single worst defensive season for any outfielder since they began to calculate UZR. And 2009 was no fluke: he was bad in 2008, 2007 and just about every other year in his career.
Makes you wonder what the Nats' know about how his first base "skills" have developed in the past year.