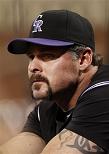 A couple of weeks ago some unnamed people "hanging out" at the Hard Rock in Vegas said that Jason Giambi was going to be staying with the Colorado Rockies. People loitering around casinos: is there nothing they don't know?
Jason Giambi is expected to sign a one-year deal with the Rockies, reports ESPN's Andrew Marchand.
Terms are unknown, but it's likely to be an incentive-laded contract.
Giambi will no doubt be (a) pinch-hitting; (b) backing up Todd Helton; and (b) DHing during interleague play.  That's not a ton of work for the guy, but given that he's 39 and is coming off a season
in which he hit just .201/.343/.382 in 102 games, he's lucky to have a job at all.