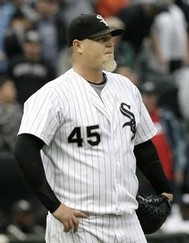 White Sox' closer Bobby Jenks has taken all kinds of heat from the front office over his weight since the end of the season.  A season, mind you, which was interrupted but bouts with kidney stones, a
strained calf muscle and some other ailments which, if you believe Kenny Williams, were basically fat guy injuries.  The Sox — while bringing in J.J. Putz to put some pressure on him — decided to give him one last chance, however, and signed him to a $7.5 million deal for 2010.  It looks like he's making the most of his chance:
Bobby Jenks spent the last three months losing weight. The White Sox closer then spent 10 minutes in a closed-door meeting
with general manager Ken Williams and manager Ozzie Guillen on Friday
clearing his conscience.

"He looks the best I've ever seen him, and I'm really proud of this
guy," Williams said. "As a husband and father, he's great around his
kids — but just sitting here and looking me and Ozzie right in the
eye, addressing the issues head-on like men, I'm proud of him. Good for
him. Sometimes you've got to push some buttons to ultimately get to
that point."
Those buttons caused him to lose, in Sun-Times' writer Joe Cowley's opinion anyway, something on the order of 30 pounds.
I still don't think it was right for Williams to have turned Jenks' weight into a public thing — it's rude and unprofessional to call your own players out, and focusing on Jenks' problems probably hurt his trade value at a time the team was listening to offers — but I suppose you can't argue with the results.