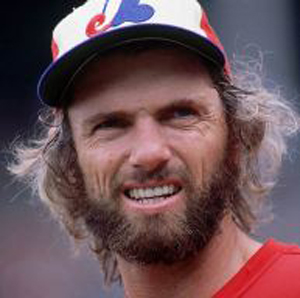 This isn't exactly news, but it's a slow day and slow days are made for Bill Lee rambling about stuff. Here's Lee comparing and contrasting Andre Dawson and Jim Rice:
"Hawk's a leader. He led by example through pain and suffering, going
out there every day and laying it on the line. Character! I'd take him
over Rice any day of the week. Rice had one of the greatest years in
'78, but over the course of a career? Hawk could play the outfield.
Rice was a good outfielder there for a while, but then he got heavy. He
got sedentary. He really didn't work as hard as Hawk had to work every
day. He was a pain in the [butt]."
And actually, I'm less interested in Lee's opinion of Rice as I am in using this an excuse to talk about the show I saw on ESPN Classic this morning. It was some sports quiz show from the mid 70s that pitted Fred Lynn, Bill Lee and Red Sox manager Darrell Johnson against Bobby Bonds, Frank Tanana and Angels manager Dick Williams.  Great stuff. Lynn carried the Red Sox to victory.  The Angels team was mostly Bonds and a bit of Williams, though Dick was way too quick on the buzzer.  Tanana and Lee were close to non-entities, though it's worth noting that Lee did appear to be completely lucid, which is frankly surprising.
OK, we probably need some real news to happen now.