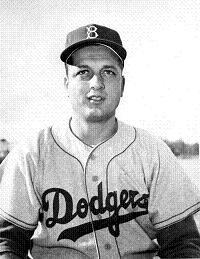 I was never a big Tommy Lasorda fan back when he was a manager, but I kind of like retired old man Tommy Lasorda. He was a hoot working the room and telling war stories at the Winter Meetings. Reminded me of my late father-in-law, who also happened to be a large and jolly Italian man with a zillion stories of dubious provenance. Once he got past, oh, 65 we just let him be him and happily went along for the ride.
Same goes for Lasorda.  The latest: Tommy tweets "I'm teaching our young pitcher Kenley Jensen my curveball."  Here's the pic to prove it.  Then he tweets "It's the same curveball I used to strike out Stan 'The Man' Musial and 'Say Hey' Willie Mays."
And he did strike out Musial once.  It happened on May 5, 1955.  In the first inning. Lasorda got the start, and dadgummit, Stan the Man went down swinging.  Of course, it may have been in self defense. Lasorda walked two guys and threw three wild pitches that inning, allowing a run to score without allowing a hit. He was removed to start the second.
Sadly, however, Lasorda's memory may be failing him — or his whimsy running away with him — when it comes to Willie Mays.  Lasorda never faced him, let alone struck him out. At least not in a major league, regular season game.
But just like I used to let my father-in-law tell the story about how the Beatles once tipped him with an autographed photo when he was delivering pizzas in Hamburg, Germany, I'll let Tommy Lasorda tell people he struck out Willie Mays once.