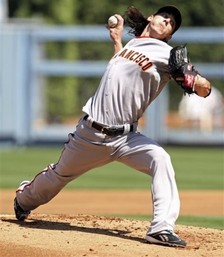 Jon Heyman wonders how the Giants may make their arbitration case against Tim Lincecum in the event they don't settle. After noting how easy it would be for Lincecum — two Cy Youngs, babies — he passes along a potential team strategy:
The Giants could claim Lincecum's second Cy was a "fluke" (a word I heard yesterday to describe it by a management type) in that it was basically a crapshoot between him, Adam Wainwright and Chris Carpenter and aided by two stat guys thinking Javier Vazquez should be in the top three.
That's your case, Giants? "Fluke" + Keith Law + Will Carroll = $8 million? I once had an arbitration panel enter a $3 million award against my
client, and it was on the strength of a case ten times better than
that.
But really, what else would they have? Not much, I'd say, especially considering that Lincecum really didn't shoot the moon in his demand the way many expected him to.  I guess if I had to argue the team's case I'd think about mentioning the inherent risk to a young pitcher's health and hope to get some discount for that risk, but I don't even know if that's allowed under baseball's arbitration rules. It's almost always about the salary and achievements comparable players. In light of that, being the Giants if this thing goes to a hearing will be a total drag.
Speaking more generally, I've never met anyone in the game, on the side of management or on the side of the players, who likes arbitration, and it's easy to see why.  It's all about forcing something that isn't a truly adversarial relationship into an adversarial process.  The law frowns on this because when people don't have truly opposing views on things it leads to strange and unsatisfying results. Baseball people hate it because it pisses everyone off right at the time — spring — when people should be pulling together.
Here, while the Giants and Lincecum must, by virtue of the process, take different sides on salary, they don't have truly opposing views either. They both love Timmy. They both want Timmy to be happy. To the extent they have to fight it's going to be artificial and, if Heyman's source is right, profoundly silly. Fluke. Please.
Heyman suspects that the case will settle, probably with a two-year deal.  For the Giants' sake, one hopes so.