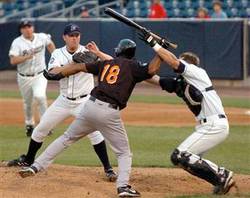 Monday update: Offerman has been "suspended for life" by the Dominican Republic's winter league.

5:50 PM: Update: A group of American umpires working in the Dominican winter league, including the one who was attacked by Offerman, have decided to leave the country for fear of their safety, reports Enrique Rojas of ESPNDeportes.com. Hard to blame them there.
9:02 AM: Former major leaguer Jose Offerman is back in the news, and once again, it's not good. He threw a punch during an argument with an umpire in a Dominican winter league game on Saturday night.
Offerman, manager of the Licey Tigers (really?), threw a punch that appeared to
land in the face or neck of umpire Daniel Rayburn. You can watch by
clicking here.
The whole scene is pretty surreal, but the most striking part about it
is that Offerman's punch doesn't seem to have a whole lot of velocity
behind it. It's almost as if Rayburn was looking for the red card. In
any case, Offerman was detained and taken to a police station to see if
Rayburn would press charges.
Of course, this isn't the first time that Offerman has attacked someone
on the field. During an ugly incident as a member of the Long Island
Ducks in 2007, the former All-Star attacked Bridgeport Bluefish pitcher
Matt Beech and catcher John
Nathans with a bat (picture above). Nathans sued Offerman in In early 2009, seeking
$4.8 million in damages, claiming that the attack
left him with permanent and career-ending injuries.
This latest attack will probably leave Rayburn with less serious injuries, but Offerman is pretty much out of chances.