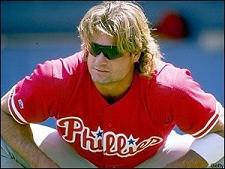 Retired Phillies catcher Darren Daulton believes in alchemy, auras, telepathy, energy transfers, astral planes, planetary ascension, and parallel universes.  He believes that he had an had out of body experiences while playing at Wrigley Field one day. He believes that the universe is created and sustained by numerical synchronicities — the number 11 is particularly important in his life — and
that all matter is charged with extradimensional vibrational energy. He believes
that his moods have altered the weather before, that the pyramids were created by a lost
civilization — or possibly aliens — and that people with knowledge of the workings of the
universe will ascend to a higher plane of existence on Dec. 21, 2012, at 11:11 a.m.
And in the wake of the McGwire business, he's talking more sense about steroids than anyone:
I think it gives a real good pulse of the American people . . . I mean, if I was a foreign country and wanted to take over this
country, I'd get a prescription for steroids and stand at the border
and wave them, and then watch the American people fold . . .

 . . . Finding out whether or not a guy does steroids or not, I could never
understand this. There are a lot of things that a lot of people do
behind closed doors that they probably don't want the public to know
about. Whether you're cheating on your wife, your husband, or you're
doing drugs, you don't want your boss to know about something, you're
hiding something from somebody, or you're watching porn and you're
masturbating. Whatever it is, everybody's got one of these or they
wouldn't be here, but it seems like everybody gets to cast the first
stone when somebody else is caught doing something, or allegedly
caught. It makes them feel better, and again, this is kind of the pulse
of the American ego, as long as we can point our finger at somebody,
we're okay, we feel better about ourselves.
The fact that one of the biggest nuts in the hemisphere is saying the
most sensible things about steroids probably means something. Though
what it is I have no idea.