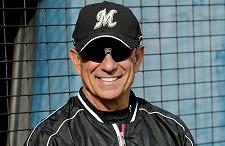 Robert Whiting wrote one of my favorite baseball books ever in You Gotta Have Wa.  Now he has the inside story of Bobby Valentine's final days as the manager for the Chiba Lotte Marines.
On level it wasn't personal, it was just business: the team and the
parent company was losing money and they just couldn't justify paying
Valentine's salary anymore. Fair enough. Happens all the time.  But the manner in which the team's ownership went about ushering Valentine out the door was something new altogether.  It all got started when some fans didn't take kindly to the news that the team's owner, a man named Setoyama, wasn't going to keep Valentine around:
Setoyama supporters within the organization, stunned
by the reaction of the fans, began a stealth smear campaign intended to
sully Valentine's reputation. They whispered that he was taking
kickbacks from foreign players, that he had recruited one gaijin player
from a local bar, and that he had hired his own son to design new Lotte
uniforms, while collecting a hefty royalty on their sale.

They also claimed that he had sexually harassed Lotte
female employees, that he was anti-Japanese and even racist, noting he
used terms like "the f—–g Japanese way."
The smears were untrue, and they were motivated by a desire to quell fan backlash over the team's failure to extend Valentine's contract and to maybe, just maybe, get Valentine to quit early and save the team some money. When some within the organization questioned whether such a strategy would work, the team's owner was revealed to have said that "the fans are like carp, they will eat anything you feed them," and "if we have unworthy fans like this, let's just move our home stadium. It's just a bunch of stupid Chiba fans anyway."
This article is the first of a four-parter, and if the rest of the installments are this good, it's definitely going to be a must read.  In any event, it's the sort of thing that will put the various and sundry atrocities of the Royals and Pirates ownership in perspective.