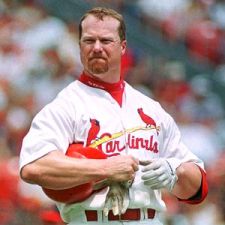 As Mark McGwire continues to be called a liar and a fraud for his claim that he took steroids because he was injured and not because he thought they'd enhance performance, it's probably worth remembering another player's comments about his PED use:
"I was injured . . . I felt an obligation to get back to my team as soon as
possible. For this reason, and only this reason, for two days I
tried human growth hormone . . . This is it — two days out of my life; two days out of my
entire career, when I was injured and on the disabled list. I wasn't looking for an edge. I was looking to heal. If I
have let down people that care about me, I am sorry, but I hope
that you will listen to me carefully and understand that two days
of perhaps bad judgment should not ruin a lifetime of hard work and
dedication."
I just wanted to heal? I only took it for two days?  If anything, this player was even more cavalier about it than McGwire. And that wasn't a personal statement by the way. It was a written statement released through his agent. Anyone know who it was?
Why, it was Andy Pettitte, and that was his statement after being outed in the Mitchell Report two years ago.
And I'm just as fine with Andy Pettitte's statement as I am with McGwire's. Credible? No. But I don't believe that they owe me apologies or explanations. I do believe, however, that anyone who is currently taking Mark McGwire to the woodshed for claiming that PEDs didn't help him is obligated to conform those opinions to something close to what they said about Andy Pettitte two years ago.
I've searched a bit, and so far the only one I can find who slammed both of them is Mike Lupica, who in 2007 accused Pettitte of "crocodile tears" and yesterday compared McGwire to Bill Clinton and Marion Jones.  I disagree with him in both instances, but good for him for consistency at least.  Most other writers praised Pettitte — often quite effusively — for his candor, despite the fact that just over a year before he was on the record lying about it. The issue certainly doesn't continue to dog him.
It'll be interesting to see how quickly people jump off the "McGwire is still lying" train and start to treat him like a normal everyday hitting coach the way they treat Pettitte like a normal, everyday starting pitcher.