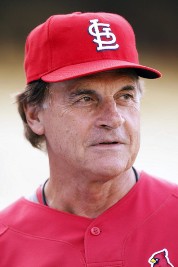 There's a war of words in St. Louis. You may have already heard that
Jack Clark, who spent three years with the Cardinals, thinks Mark
McGwire should be banned from baseball. He also questioned Tony La Russa's claim that he didn't know McGwire was on steroids during his tenure in Oakland and St. Louis:

"[McGwire's] own manager never knew that [Jose] Canseco and McGwire and
anybody else ever had taken steroids? Trust me, from [a former player], I have a lot of insight into who did
what and when but I'm not even going to talk about it. It really
doesn't matter."
La Russa responded to Clark in an interview with the St. Louis Post-Dispatch on Friday night:

"I would say I always respected the career Jack had and he's entitled to his opinion. But his comments about me are wrong."
What better time for the whole gang to meet up at this weekend's
"Winter Warm-Up" event in St. Louis? The team has confirmed that
McGwire will make his first public appearance as the team's new hitting coach on Sunday,
where he is expected to sit down with one of the team's broadcasters for
an interview in front of the fans. Just don't expect Clark to be very
cordial should they cross paths this weekend.
"I'm not going to say hello. I'm not going to shake his hand. He's a sad excuse for a
player in the industry of baseball. Just seeing him in uniform makes me
throw up."