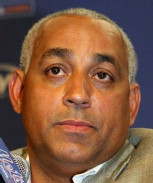 Mets general manager Omar Minaya quickly tried to smooth things over
with Carlos Beltran after the team publicly expressed their displeasure
in his decision to undergo surgery on his right knee this week, telling
David Waldstein of the New York Times that the whole controversy may have stemmed from a miscommunication of protocol:

"It was a very good conversation. Everything is fine. Listen, we have no problems with Carlos Beltran. I
have no problem with him and ownership has no problem. We love him. The
only issue was with the process, not the player."
It's a very telling quote. While he is speaking in reference to a very
specific instance, it only confirms the perception of dysfunction in
the organization's leadership structure. For example, assistant general manager
John Ricco conducted the conference call on Thursday instead of Minaya, increasing speculation that the current general manager has been marginalized.
More broadly, the decision to make the dispute public has done more
harm than good in the eyes of the fanbase and public at large. Both
prompt the question: Exactly who is steering this troubled and overpriced ship?
On a related note, Sam Page of Amazin' Avenue has put together an amusing, yet sadly-accurate flow chart of the team's decision-making practices.