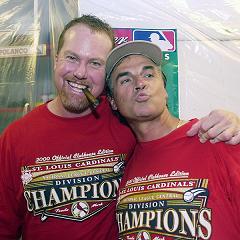 UPDATE:  Readers who heard the un-bleeped version of the broadcast mentioned below are telling me that the expletive in question was "s—" and not "f—."  I went with the latter earlier because that's what the linked transcript said, but in hindsight and based on what the readers are telling me, I'm switching.  Whether that changes any of the below analysis in your mind is up to you.
Missed this yesterday somehow, but Tony La Russa has a response for people — like me — who think that his Sgt. Shultz routine with respect to steroids in Oakland and St. Louis is pretty dubious:
"Well they can believe it or not. I don't really give a fuck shit to be honest. If they think that I'm lying, then they think I'm lying. I've tried to build my career on credibility and trust, that's what we do with our players. I'm telling you – we ran a clean program. That's the way it is. That's what I say, that's what I believe. If they believe differently, that's America, they can believe anything they want to."
That came in a radio interview on 101 ESPN in St. Louis with Bernie Miklasz yesterday.  A transcript of his comments — and there were many others — is here. The audio of the whole radio show is here.  It's worth listening to all of it, but the blockquoted bit comes at the 13:10 mark.
You know that I have something approaching a "who cares" attitude about much of this, but I'm struggling to see why the same people who are so disgusted when Mark McGwire says something incredible (i.e. that he doesn't think steroids helped his performance); seem to have no condemnation whatsoever for Tony La Russa's completely baffling denial of reality.
Where is Jon Heyman on this? Where is Ken Rosenthal? Mike Lupica? Dan Shaugnessy?  Why doesn't Tony La Russa get a scintilla of the heat that his former players get over this? In any other context, be it sports, government or business, the man in charge would be held to answer for the transgressions that occurred on his watch. But not La Russa.
I actually agree with 90% of what La Russa says regarding McGwire in this interview. And I completely understand both the intellectual and emotional reasons for why he defends Mark McGwire. But for him to continue to claim that he had no idea what was happening in his clubhouse without anyone accusing him of incompetence, willful ignorance or tacit complicity is utterly baffling to me.
The only conclusion I can draw is that those who claim L'affaire McGwire is such a big deal are not nearly as serious about the subject of steroids in baseball as they are in scoring easy points and trafficking in phony moral outrage.  Because if the outrage was real, it would be directed at Tony La Russa. And Bud Selig. And the owners, agents, managers, sponsors, reporters and everyone else who either knew about steroids or were willfully blind to the issue back in the day.