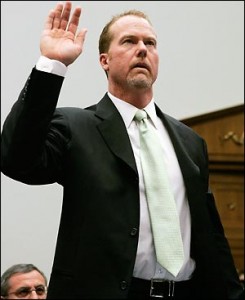 I actually don't have a huge problem with most of what Jon Heyman says about McGwire in his latest column. Sure, I think his tone is overly moralistic, and I continue to wonder why anyone cares what McGwire thinks steroids did or didn't for him. But it's not like he says anything a dozen other writers aren't saying.
But I do take issue with one part of his analysis, and it's the part in which Heyman talks about stuff he obviously doesn't understand in the least: the legal stuff:
And by the way, his claim that he stonewalled Congress because he feared prosecution is fairly lame, as well . . . the reality is that McGwire would have been hailed as a hero had he
told the truth and if he had he pledged to help the steroid cause and
actually did help the cause . . .This isn't his lawyers' fault. It's his fault. And of course, the
reality is that no one ever gets prosecuted for taking steroids. People
are prosecuted for distributing steroids, and they are prosecuted for
lying under oath.

We all know of hundreds of athletes who
took performance-enhancing drugs. And how many of them have been
pursued or prosecuted by the feds for that? Exactly zero. The
government doesn't have the time or resources to go after the folks who
just use the performance-enhancing drugs. And they certainly wouldn't
be hauling away in handcuffs an American hero, which is what McGwire
would have been had he cooperated rather than taking such a cowardly
stance.
It's easy to be pretty cavalier about other people's freedom, I guess, but one thing is certain here, and that's that Heyman doesn't have any experience being in the cross hairs of any sort of legal investigation. If a lawyer gave McGwire the kind of ignorant advice Heyman is spewing he's be sued for malpractice.
I have said on a couple of occasions that it would have been a very good thing for McGwire to have been 100% frank at that Congressional hearing, and that by doing so he could have done no small amount of good with respect to the issue of PEDs in baseball.  But implicit in those comments was the idea that any such effort would necessarily have to come with some kind of immunity deal, because to do it he would have had to admit to committing crimes, even if they were minor ones.
And we learned something in McGwire's confession the other day that we did not know before: he tried. His lawyers approached the committee's lawyers and asked for immunity so he could talk.  And they said no. And it wasn't just them: the Attorney General himself said no.
Now ask yourself: if you got a government subpoena and you knew that answering the questions they were going to ask you would require you to admit to committing a crime, and you asked them for immunity and they said sorry, no, would you feel all that comfortable that you wouldn't be prosecuted for something? If, like Heyman, your answer is "yeah, sure," you're crazy.
Heyman says "the
government doesn't have the time or resources to go after the folks who
just use the performance-enhancing drugs." Such a comment show's Heyman's ignorance of the War on Drugs in general and the government's interest in steroids in particular. They had agents literally sifting through athlete's garbage prior to McGwire's testimony. And while sure, the high-profile prosecutions of athletes like Barry Bonds and the investigation of Roger Clemens are premised on perjury, the government has a cute habit of setting perjury traps for people testifying about stuff that they might not prosecute in and of itself. And of course, thousands upon thousands of otherwise personal drug users have been charged as distributors based on possessing or using quantities of drugs that, while for personal use, are deemed enough to show an "intent to distribute."
Do they go after McGwire if he speaks frankly before Congress in 2005? I think the odds are less than 50%. But (a) they explicitly told his lawyers that they wouldn't not go after him; and (b) even a 25% chance of becoming the poster boy of a federal steroids prosecution is a nightmarish prospect and enough to make any reasonable man balk at being so forthcoming about his illegal conduct.  I've represented high-profile criminal clients before, and I can tell you, a public investigation of even moderate length that does not result in an indictment can be an emotionally and financially-draining experience for all of those involved. Families can be destroyed. Fortunes lost. Friendships ended.
In other words, it is not something to be so blithely dismiss as Heyman does here.