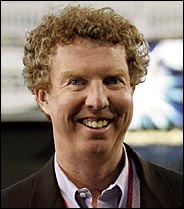 Thank God we finally have Dan "the voice of reason" Shaughnessy's take on the McGwire business.  Take it away, Dan:
Why wouldn't a guy cheat? Steroids made McGwire rich and famous. The
performance-enhancing drugs probably will cost him Cooperstown, but
'roids got McGwire where he wanted to go. Is there a Triple A
ballplayer who'd say no to artificial help if it would elevate him to
the big leagues? Is there a fringe big leaguer who'd resist an
opportunity to become a full-blown star with a long-term contract?
See, Shaugnessy is dead-on with this. There were clear, rational incentives to take steroids. Ask yourself: if you thought taking steroids would make the difference between an $80 million net worth at age 40 and selling cars for a living at age 40, wouldn't you do it? If you said no, you're either in an infinitesimally small minority or you're lying.
Yet despite being perfectly able to grok the incentives in play, Shaugnessy (and many others) still paint steroids users as heartless cheaters and fraudsters, not just in the effect of their actions, but in their very intent. How someone can acknowledge that taking steroids was a perfectly rational thing to do on the one hand, but call them monsters on the other is puzzling to me.
Start with Big Mac. Does anyone believe him when he says he did not do
this to gain strength? Does he expect us to nod and agree when he says
that he would have been just as good without the stuff? Sorry. The "I
just did it to get back on the field" defense is the juicer's version
of "the dog ate my homework." Nobody is buying.
As I asked yesterday, why do you have to buy? Who cares?  And if Shaughnessy doesn't agree with my take on this, the least he could do is to read his SI colleague Posnaski's take on what forgiveness really means (note: it's way less significant a thing than Shaugnessy makes it out to be). It's frankly brilliant.
If this junk didn't help McGwire hit 70 home runs in 1998, why was he
compelled to apologize to members of the Maris family Monday?
I would bet the lives of my children that Shaughnessy would have raked McGwire over the coals if he hadn't apologized to the Maris family, so seeing him use that as sword against him now is rich.
Please, let's have no more baseball players telling us that steroids
don't help with hand-eye coordination. That's not the point.
Professional hitters are able to square up the baseball.
Wait, I thought "professional hitters" were mediocre journeyman who hit the ball the other way in a manner that makes the color commentator say "that's a nice piece of hitting right there."  I'm so confused!
We all cringe when Bud Selig says that the steroid era "is clearly a thing of the past." Bud sounds like Neville Chamberlain before World War II.
Ooh! Analogies! I aced this part of the LSAT. Let's play:  Selig is to Neville Chamberlain as ballplayers who take steroids are to (a) kittens; (b) rainbows; (c) hugs; or (d) Adolf Hitler at Munich. So glad to see Shaughnessy is keeping things in perspective here.
Tony La Russa needs to stop enabling McGwire. Barrister Tony is simply
too smart to believe the things that come out of his own mouth. Tony
helps no one when he says he didn't know anything about this until
Monday.
As was the case with Canseco, I can't help but agree with Shaughnessy here.  Of course, if you combine this observation with his earlier acknowledgment of the incentives in play, and marry it up with the fact that baseball knew that McGwire was taking steroids as early as 1993, you would think that the rhetoric would be less weighted against the players.  It was a big systemic problem and very few people's hands were clean. Let's level out the criticism a bit, then, shall we?
He has been held out of the Hall because of steroids and that's not
likely to change. So what happens when Bonds's name appears on the
ballot? A-Rod? Clemens? Sosa? Are they all out, or will the voting
membership eventually bend on cheaters because there are so many of
them and, well, it was "the Steroid Era"?
I still don't get how, on the one hand, someone can say that the whole era is tainted and that no player is beyond suspicion — Shaughnessy says "they're all dirty!" — yet can't acknowledge that some players were still head and shoulders above everyone else.  Sure, McGwire and Bonds and their fellow travelers had help, but so too did Larry Bigbie and David Segui.  Is it that hard to acknowledge comparative greatness, steroid use notwithstanding? Maybe McGwire and Palmiero are tough cases — who knows what they would have done without steroids — but does it really take a leap of faith and a denial of your morality to say, hey, Barry Bonds, Roger Clemens and A-Rod are Hall of Famers?
Dock them slightly for character issues if you must, but in this I'm of the same mind as Rob Neyer, who notes that if, 20 or 30 years from now we have a Hall of Fame that doesn't include the undeniably best players of their time, you have a pretty useless and irrelevant Hall of Fame.
OK, that's all the Shaughnessy I can stomach for one morning.