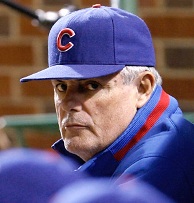 You've got to love baseball's offseason. In addition to the non-stop carousel of rumors, free-agent signings and blockbuster trades, you've got the sense of eternal optimism heading into the upcoming season (unless you're a Royals fan). No one is in last place. No one is cursed, and no one is worried about Milton Bradley.
Which brings me to Lou Piniella's statements on his Cubs, as told by Carrie Muskat of MLB.com.
"I'm looking forward to a team that will win this division again and give itself another chance to go on and get a World Series win," the Cubs' manager said Wednesday at Harry Caray's Restaurant, a stop on the winter caravan. "That's what I'm hoping for, and that's what we're striving for."
Piniella points out that the Cubs won 83 games and finished second in the NL Central despite having 10 players miss at least 20 games, and also hints that the removal of Bradley from their delicate clubhouse will help.
… if we can win 83 games with all those problems and all those injuries and we stay relatively healthy this year, we can add another eight, 10 wins and get to the postseason and win in the postseason."
He's so adorable when he's optimistic. I hate to rain on his parade, but here's why the Cubs won't win the World Series:
The Cubs are 0-6 in the postseason under Piniella, and those teams were relatively healthy and sans-Bradley. Though I don't believe in curses, those previous playoff teams folded as soon as they ran into any adversity, almost as if they expected to lose.
The Cubs are already battling injury problems, with left-handed starter Ted Lilly, their only All-Star in 2009, expected to miss at least the first month of the season after undergoing shoulder surgery.
Carlos Silva, the man Chicago acquired in the Bradley trade, is expected to improve clubhouse chemistry and possibly take Lilly's spot in the rotation. The problem is, Silva sucks. Also, he was not a particularly good clubhouse presence in Seattle, calling out teammates publicly despite carrying no leadership weight because, well, he sucks. Did I mention he sucks?
And finally: Adam Wainwright, Chris Carpenter, Albert Pujols, Matt Holliday and the St. Louis Cardinals.
A championship for the Cubs? Go ahead and dream about it while you can, Lou.