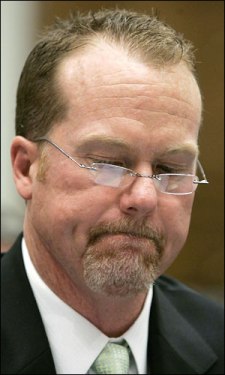 In both his statement yesterday and during his interview with Bob Costas last night, McGwire repeatedly said that he took steroids to recover from injuries. When asked if he thought steroids helped him, you know, hit the living crap out of the baseball, he said no. He called them performance "equalizers," not performance "enhancers," and that they just got him back to feeling normal instead of turning him into Superman. This tack had no small number of people outraged last night — Ken Rosenthal and Tom Verducci had kittens on MLB Network after the interview — and no doubt still will into today. He's still not really confessing! the doubters cry. He's not really coming clean!
Everyone's entitled to their outrage, of course, but may I ask why we even care what McGwire thought he was accomplishing by taking steroids?
The notion that McGwire was simply using steroids to get back to normal or whatever is silly and disingenuous. Of course they helped him hit home runs. Of course they enhanced his performance. We don't know how much — even the experts differ on the kind of boosts various PEDs can give a guy — but it's safe to say that a good number of Mac's homers would have been warning track flies without the steroids.
But why do McGwire's thoughts on the subject matter?  He either believes what he said regarding the impact of the steroids he took or he doesn't.  If he doesn't, he's spinning it, and that may place him in Andy Pettitte land, integrity wise, but it's certainly not the kind of spin or obfuscation that will keep historians from judging McGwire's career properly. It's like the kid with the bat and ball standing next to a pile of broken glass claiming he doesn't know how the window got busted. We don't need an admission for history to cast its proper judgment on Mark McGwire.
But isn't it possible that he truly does believe what he's saying?  Ballplayers believe all sorts of ridiculous things. They believe that stepping on the foul line brings bad luck, that not shaving keeps hitting streaks alive, that stating the obvious about a pending no-hitter jinxes things and that eating chicken before each game leads to batting titles.  We don't chastise them for their disingenuousness on these counts, do we?
OK, maybe those aren't apt analogies but here's something worth thinking about: ballplayers are elite athletes, and one thing almost every elite athlete has in common is the ego-driven belief that they're different. That they're special. That everything they accomplish is because of their effort or their determination or that God chose them to do Great Things. To most elite athletes, things like luck, random chance, genetics and accident of birth have nothing to do with it. To admit otherwise is to allow doubt of one's own abilities to creep in, and with those doubts come the possibility of failure.
We almost always give athletes a free pass on this sort of stuff. We don't question the wide receiver who thinks God helped him score the touchdown.  We don't challenge the seven foot tall center who thinks his domination of the key is purely a function of his work ethic. We don't accuse the Fighting Irish of thinking that thoughts of the Gipper, as opposed to a superior game plan, beat Army in 1928.  Athletes believe this stuff. They spend a lot of time in denial, actually, and it probably has a lot to do with why they're so successful.
In light of this I find it totally plausible that Mark McGwire is in denial about what steroids did for him. That he truly thought — or over time convinced himself to believe — that they were only helping him "get back to normal," as opposed to giving him a chemical advantage.  Sure, he's deluded about this, but it strikes me that he's no more deluded about it than any other athlete is deluded about his place in the world and how he got there.
To me it doesn't really matter what he thinks.  With his admission, McGwire is no longer the sole author of his historical legacy. He did what he did and now he's said what he did. Based on what he has said we can start to place his accomplishments into whatever historical context we think appropriate, be it asterisk-land or barring him from the Hall of Fame or whatever baseball, the sports writers and the historians decide to do.
McGwire is planning on continuing to make the media rounds today with multiple newspaper TV and radio interviews scheduled. Maybe he'll keep saying that steroids didn't help him hit the ball. Maybe with a night to sleep on it he'll admit that, hey, just maybe they did.  I'm not sure I can bring myself to care about it. The whys — be they legitimate or the stuff of fantasy — don't matter to me.