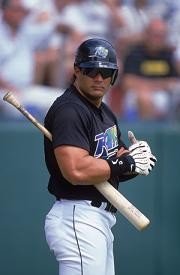 I'm surprised it took him a day to find a microphone.  Anyway, you've been right more than you've been wrong about this Jose, so you're probably entitled to a few minutes of the floor:
"I've got no problems with a few of the things he's saying, but again,
it's ironic and strange that Mark McGwire denies that I injected him
with steroids. He's calling me a liar again.  I've defended Mark, I've said a lot of good things about him, but I can't believe he just called me a liar. There is something very strange going on here, and I'm wondering what
it is. I even polygraphed that subject matter, that I injected him, and
passed it completely. So I want to challenge him on national TV to a
polygraph examination. I want to see him call me a liar under a
polygraph examination."
Maybe Canseco is telling the truth about this, but allow me to ask: does anyone, even the most passionate anti-steroid crusader, care about the specific mode of injection?  I'm willing to live with a half-truth regarding one man injecting another in a bathroom stall. Aren't you?  And I think Jose said too much with the national TV thing. His biggest weakness in all of his truth telling is that he's been seen as being far more interested in making a buck and getting attention out of it than in doing what's right for baseball.  He pretty much admits that here.
Canseco is also miffed at La Russa's claim that he didn't know McGwire did steroids until yesterday:
"That's a blatant lie.  Tony La Russa was quoted as
saying that I was using steroids back then, and I was talking about it
in the clubhouse, openly. That's a blatant lie. There are
some things here that are so ridiculous, and so disrespectful for the
public and the media to believe. I just can't believe it. I'm in total
shock. These guys remind me of politicians that go up and just lie to
the public and expect to get elected."
I'm with Canseco here. La Russa had one of the most steroid-happy locker rooms around, in two cities no less, with the most brazen user of them all in Canseco under his supervision.  He has always played dumb and no one has ever taken him to task over it.  If a manager is as ignorant about what goes on in his clubhouse as La Russa claims to have been he wouldn't be able to fill out a lineup card because the players would be total strangers to him. Good for Canseco for saying this. I wish someone who wasn't such a freakshow would repeat it.
Canseco also hates having to defend himself over all of the claims he has made:
"I'm tired of justifying what I've said. I've
polygraphed, I've proven that I'm 100 percent accurate. I never
exaggerated. I told it the way it actually happened. I'm the only one
who has told it the way it actually happened. Major League Baseball is
still trying to defend itself. It's strange. All I have is the truth,
and I've proven that."
To my knowledge, nothing Canseco has said has been proven wrong. At least nothing major, so he has a point.  Still, as all of today's outrage over McGwire's apology makes plain, to most of the media and to a certain vocal brand of fan, it's not what you say, it's how and why you say it.
McGwire catches hell for only apologizing because he wants a job and for not following the specific remorse regimen that the public allegedly demands. By the same token, Canseco only came out with his steroids stuff when he was at the end of his career, found himself in desperate financial straits and needed to make some money.  It's a free country, so he can do what he wants along those lines, but he shouldn't act surprised when he's not embraced with open arms.
Finally, Canseco takes on the Hall of Fame:
"This is
far from over. There's a list out there of [103] players. The last five
to eight years there may have been some players elected to the Hall of
Fame that were on that list. Nonetheless, if that list is not divulged,
there will continuously be players who are inducted into the Hall of
Fame who will probably be on that list."
I wonder if this isn't some backtracking on Canseco's part. He has said in the past that there is definitely someone in the Hall of Fame who has used steroids. I agree that the odds favor a PED user in Cooperstown, but Canseco has always acted like he's known the player's name. Now it sounds like maybe he doesn't.
Oh well. I think my headline is wrong here. Canseco showing up doesn't represent the start of the party. At least not anymore. He's now more like the fat lady singing. He may have hit the right notes a few times here — but it's over. What else more is there to say?