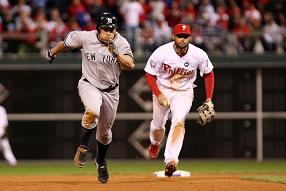 Johnny Damon, the unfortunate victim of the lengthy Matt Holliday negotiations, is still awaiting his next contract.
"Well, I knew I'd have to wait until some of the bigger hitters like Jason Bay and Matt Holliday

went
places, and now I'm just waiting to see what's in store for me," Damon
said. "I knew I'd probably have to take a pay cut, just based on the
way the economy is in this country and baseball, but I thought I had a
productive season and I think I showed people I can play and still do
something at a high level."
He told Nick Cafardo of the Boston Globe that he approached the Yankees
with an annual salary of $10 million, but they were more comfortable
with a contract in the $6-7
million range. Not willing to take a pay cut, he hasn't had any
conversations with the Bombers lately. While further talks wouldn't surprise
him, he's "just kind of going on" with his life. One possible destination that has emerged
is the Braves, whose Disney Spring Training complex is just a few
minutes from his home in Orlando.
"Atlanta would be great," he said. "I'm wide open. There are a handful
of teams who, in my opinion, could win and I'd like to see what kind of
availability there would be with those clubs."
The Braves could have a unique opportunity to take advantage of the
market and sign Damon on an Adrian Beltre-type deal, but if his price
drops far enough, I'd never say never on the Yankees. Gee, it's like
they knew it would take Matt Holliday forever to sign, leaving Damon
grasping at straws to find a lucrative deal before Spring Training.