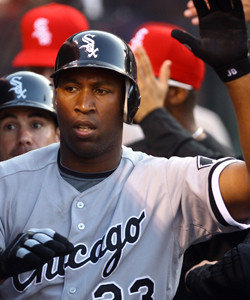 When Vladimir Guerrero agreed to terms with the Rangers on Saturday
night, it dealt a heavy blow to the market for free agent outfielder
Jermaine Dye. The Rangers maintained dialogue with Dye even as
they negotiated with Guerrero, offering both similar base salaries in
the area of the $3-5 million. According to Evan Grant of the Dallas
Morning News, manager Ron Washington met with Dye in California as recently as Friday.
Dye, who turns 36 later this month, now finds himself in a free agent
market with few remaining opportunities. Let's take a quick look at a couple
possible fits.
Yankees: The World Champions
have denied interest in the past and Dye wouldn't really fit in their
outfield — he's only played 27 games in left field in his career and
rates as one of the worst defensive outfielders in the major leagues — but he
would come at half the price of Johnny Damon and projects as a powerful
right-handed bat off the bench or insurance for the oft-injured Nick
Johnson. That said, the versatile Jerry Hairston
Jr. would probably be a better fit for the team's needs.
Giants: Probably the most
logical destination for the California-native, the Giants may be
willing to live with his shoddy defense if it means he can add some
punch to their lineup. There are a lot of moving parts in San
Francisco, as Mark DeRosa could possibly play third base with Pablo
Sandoval sliding over to first base and the recently re-signed Juan
Uribe returning to a super utility role. As it stands right now, the
Giants are still trying to sign a first baseman (they've been linked to
Adam LaRoche), a plan that would likely send DeRosa to the
outfield.
Braves: It's a sentimental
choice since Dye was originally drafted by the Braves in 1993, but
don't count on it happening. His addition would not only cripple their
defense, but it would make their lineup too right-handed. It would also
block top prospect Jason Heyward, who has primarily played right field
in the minor leagues.
As you can see, not much out there. Dye's value couldn't be much lower
after his second-half collapse, but remember that he has hit at least
24 home runs in six out of the last seven seasons. Someone will take a
chance on a rebound.