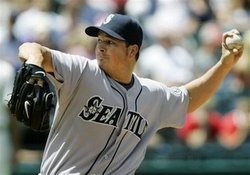 We haven't heard much from the Erik Bedard camp this winter. After
undergoing shoulder surgery last August there have been some
wide-ranging opinions on when he'll be ready to to pitch in the majors
again. Some say it could be as early as May, while others have
suggested it could be mid-season.
Orioles president Andy MacPhail is one of the more optimistic ones:
"Like any free-agent signing, whether it would be Erik or anybody,
they'd have to take a physical before so we could try to get a sense,"
MacPhail said. "I think our guys feel like, based on medical stuff
they've seen so far, it's sooner as opposed to later."
Of course, MacPhail traded Bedard to the Mariners in February of
2008 for Adam Jones, George Sherrill, Chris Tillman, Kam Mickolio and
Tony Butler. Yikes, after the Orioles swapped Sherrill for third base
prospect Josh Bell last July, this trade just keeps looking worse for
Seattle. We're talking the potential for historically bad. Long live
Bill Bavasi!
Speaking of oft-injured pitchers, MacPhail requested the medical
records for free agent right-hander Ben Sheets, but never received
them. That's probably a sign that he won't pitch for them.