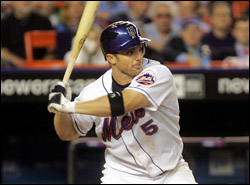 This isn't a "best shape of my life" article, it's simply David Wright talking frankly about his bad 2009, his approach at Citi Field and talking confidently about 2010:
"I felt very uncomfortable in the batter's box . . .I think one of my greatest strengths as a hitter is going the opposite
field and hitting with power to the opposite field. Obviously Citi
Field is going to take a lot of that away because it is spacious out
there . . . I'm not using Citi Field as an excuse. I'm not using the lineup as
an excuse.  It's up to me to go out there and do what I'm
capable of and I think there were times last year that I did not do
that.

"You just have to adapt to the ballpark, whether it's
learning to pull the ball a little bit more, getting stronger, doing
things that will help you hit the ball out of the ballpark . . . I'm ready to go.  I'm excited. We have a lot to prove. I have some things to prove."
Wright may not be blaming Citi Field, but he is exaggerating its impact on him just a bit.  Like most hitters, he has always pulled more home runs than he's hit the opposite way. Indeed, he only hit eight of his 33 home runs in 2008 to right field, so it's not like the large right field of Citi is killing him that much. He's probably far more on point with that stuff about being uncomfortable at the plate, having his swing all messed up and everything.
All that said, I think the "what's wrong with David Wright" stuff has been a bit overblown.  No, he wasn't himself last year, but he still got on base at a healthy clip. Indeed, he got on at an identical clip to his 2008 season.  If I had to wager on anyone having a bounceback season this year, Wright would be near the top of my list.