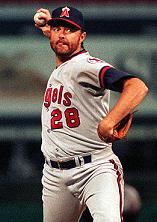 It's generally accepted that having fallen five votes short this year, Bert Blyleven's induction in 2011 is a foregone conclusion.  That's certainly the sensible position. And if I had to bet, I'd wager that he makes it. Part of me still wonders, however, if we haven't seen his candidacy's high-water mark — that place where the wave finally broke and rolled back.
A couple of reasons for this.  The first one is hearsay, but it's plausible hearsay. Brooks, from SPORTSbyBROOKS tweeted the following a few minutes ago: "Guy in BBWAA told me today that if Bert hadn't campaigned so hard, he'd have gotten in LAST year."  Sure, that's probably just snarky chatter, but there's no denying the fact that (a) Blyleven and his surrogates have spilled an awful lot of virtual ink on his case in recent years; and (b) that kind of thing grates on people after a while.  Backlashes have been borne of less.
The second reason is best displayed by the Washington Post's Thomas Boswell, who spent some time today explaining why he won't vote for Blyleven.  It was mostly about how Blyleven doesn't feel like a Hall of Famer in his gut, but he reached for this gem to support his position:
When Chuck Tanner got him in Pittsburgh the word went around that Chuck
had decided, over BB's protestations, to take him out of late-and-close
games because he'd never had the stomach for it. "Take him out before
he can lose." Tanner never said it in public.
And to be fair, Tanner and Blyleven had a famous dustup in Pittsburgh because Tanner slotted Blyleven into a strict five man rotation and would take him out of games in late innings for relief pitchers, which was still fairly novel in the late 70s. But here's Chuck Tanner, interviewed by Jerry Crasnick two years ago:
"I loved Bert because he was a competitor," Tanner said. "Other than
that one time when his feelings got hurt, I never had a problem with
him. That son of a gun never wanted to come out of a game."
The "never wanted to come out of a game" line is usually used to support a guy's Hall of Fame case, not denigrate it, and Tanner certainly believes that Blyleven is a Hall of Famer. When it comes to Blyleven's competitive fires, are we to take his manager's word for it, or are we gonna take Boswell's "word went around" stuff?
Doesn't matter, because Boswell believes what he thinks Tanner believed, and Tanner's own words to the contrary won't dissuade him. In light of that, why should we think that Blyleven being five meager votes short of induction will give Boswell any greater reason to change his mind? And why, for that matter, should we think that Murray Chass and Jon Heyman, who come up with new reasons to vote against Blyleven every year, are simply going to cave?
At some point people become entrenched in their opinions, and the more people fight to change a person's mind, the more that person sticks to their guns.  Boswell will die with that "word went around" crap in his head. Chass is always going to think what Boswell did in his age 38 season outweighs everything he did over the previous 17 years.  Who knows what Heyman thinks, but he sure as hell isn't going to change his vote next year.
Again: I think Blyleven makes it next year. But I don't think, like so many other people, that it's a foregone conclusion.
(hat tip to BTF commenter Guapo, who found the Tanner quote in this thread).