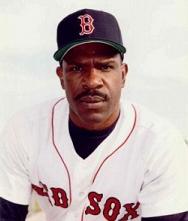 UPDATE:  Still read the discussion below because it applies to other players too, but for the record, a few minutes ago MLB.com's Hal Bodley walked into the Waldorf Astoria ballroom where they'll have Andre Dawson's press conference later today and noticed that they have a big portrait of him in an Expos uniform set up.  I'm guessing that's the Hall's way of saying what cap he's gonna have on the plaque.
I ask because MLB.com has a story asking it.  To be honest, though, it seems pretty obvious.
Dawson played 1443 games in Montreal, 867 in Chicago, 121 in Florida and 196 in Boston.  I think we can eliminate Boston and Florida from the conversation, right?  That leaves the Expos and Cubs.
While his OPS and other rate stats are a hair higher in Chicago, he was a gold glove centerfielder for the Expos and a rightfielder for the Cubs (yes, he won two gold gloves for the Cubs too, but how much of that was inertia?).  His MVP came for the Cubs, but he had much, much more aggregate value in an Expos uniform.
Dawson, of course, left Montreal on fairly acrimonious terms, and is on record as saying that he would prefer a Cubs or even a Marlins cap who gave him a chance to play a bit longer, to adorn his plaque. That's not his choice to make, however.  The players had the choice of what cap they'd wear until 2001.  At that point the Hall made the wise decision to take that choice away from them.  I say wise, because ultimately the Hall of Fame is a museum, and it's a museum's job to reflect history, not honor the personal preferences of the honoree.
Which doesn't mean that more games or more aggregate value always trumps. Reggie Jackson was a better player for a greater number of years with the Athletics than the Yankees, yet he wears a Yankees cap on his plaque. I have no problem with this because, really, when his tale is being told, his exploits with the Yankees are the center of the story. Nolan Ryan has a Rangers cap. Sure, it's subjective, but it just feels right, doesn't it? And feel matters. How whack does the pic to the right of this post look? Do we really want history looking like that?
By the same token, Andre Dawson feels like an Expo and, in my mind at least, his plaque has to have an Expos cap.