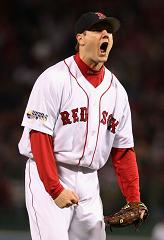 Jonathan Papelbon sat down for an interview with ESPN Boston's Gordon Edes and the subject of his soon-to-arrive son came up.  And I gotta tell ya, I'm really starting to take a shine to Jonathan Papelbon:
Papelbon's wife, Ashley, is
pregnant with the couple's second child, a brother for toddler daughter
Parker. The child is due in April. "Got a name picked out,"
Papelbon says. "Gunner Roberts." The significance? "Nothing, man. Just a
badass name, so we went with it.''

Jay from Fack Youk, who shot me the link, has a list of rejected Junior Papelbon names.  I'm going to talk to the wife about changing my boy's name to "Rambo Rocky Calcaterra" as soon as she comes home from work.
In other news, Papelbon had no idea that the Red Sox had signed John Lackey until the team trainer told him the other day. He didn't know about the Cameron, Beltre or Kotchman deals until he sat down for the interview.  There's some interesting byplay about young Daniel Bard maybe taking his job someday. From what I can gather, the Sox could probably just tell Papelbon that the eighth inning is the ninth inning and vice-versa and he wouldn't know the difference, thereby averting any controversy.
Anyway, like the lady said, the world is made for people who aren't cursed with self-awareness.  Or any sort of awareness, really.