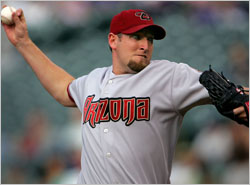 ESPN's Jerry Crasnick caught up with Brandon Webb, who's down in Arizona preparing for a comeback season with the Diamondbacks. He says he feels fine and is ready to pitch, but of course guys always say that.  We'll see once he starts to face live hitters in spring training.
More interesting were the Kentucky native's comments about free agency, which he'll hit after this season:
"Obviously you want to see what's out there and do the best deal you
can for yourself and your family. That's probably No. 1.  We've
had a great time in Arizona, and if everything works out and we stay
here, that would be good. But to get back close to home [in Kentucky]
would be just as good. I'm definitely keeping it open. I'm not going to
hold myself down to just Arizona."
The joke around these parts is that Cincinnati is the capital of Kentucky.  And there's a lot of truth to that.  No, I don't see the Reds having any desire whatsoever to pay what a healthy and effective Brandon Webb would command in free agency.  But then again, I've never met a guy from Kentucky who didn't think hard about taking a job in Cincinnati to be near mom and dad once or twice a year either.