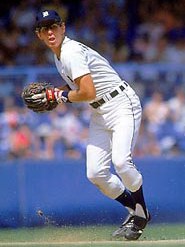 Still reeling from the exclusion of Roberto Alomar.  In the meantime, let's look down the ballot a bit, shall we?
Bert Blyleven: He received 400 votes. 405 votes were required this year. Five voters submitted blank ballots. I'm hoping they out themselves soon so they can be pilloried all right and proper.  My pique in the last post — saying that maybe Bert would never make it — may be a bit much, but at some point doesn't opposition harden? Doesn't a backlash to his much-publicized candidacy start to develop?  He probably makes it next year. He should have made it several years ago.
Roberto Alomar:  He received 73.7 percent of the needed 75.  Obviously he'll make it, probably next year. For now, the "he's no first ballot Hall of Famer" crowd can declare victory. Now if only the Hall voting rules made a distinction between first ballot and non-first ballot candidates . . .
Jack Morris:  52.3%.  Last year he got 44%.  He looks like he's on a slow but steady climb.  Given all the squawking about him, however, I would have assumed he would have received more.
Barry Larkin: 51.6.  Not a bad showing for a first year candidate. I think he deserves to get in, and at least a majority of writers do too.  Guys who crack 50% in their first year tend to make it eventually.
Edgar Martinez: 36.2%. I wrote earlier that I won't think it the end of the world if Martinez didn't make it this year, and I am not crying that he didn't. Still, 36.2% for a hitter of his caliber seems awfully low.  Are there that many writers out there who view a DH as unqualified for the Hall?
Mark McGwire and Alan Trammell: Each inched up only a tad — Trammell 17% to 22%, McGwire 22% to 23%.  More than even Blyleven and Alomar, the low vote totals for Trammell are something to be ashamed of. I understand the opposition to McGwire. I had thought he'd jump much higher than this based on several writers saying that they have changed their mind on him.  He may never make it. If there is to be any movement on his candidacy, it will be because he's a nice, honest and approachable hitting coach who likes to talk about the past.
Tim Raines: 30.4%  A seven percent jump from last year.  He's going to be a 12-15 year candidate I suppose.  Lump him in with Trammell as players' whose treatment by the BBWAA is shameful.
Others of note:  Fred McGriff's 21.5% in his debut is less than promising, but at least he hangs around for another year.  Don Mattingly and Dave Parker only received incremental gains, and don't look to have any momentum.  Lee Smith ticked up a bit to 47%, but it's a lukewarm reception. Probably should be too.  Dale Murphy actually slid down a percentage point.  Harold Baines remains above the 5% cutoff by the skin of his teeth.  Andres Gallaraga only got 4.1% and will be gone henceforth.
WTF? Seven voters thought Robin Ventura was a Hall of Famer. Maybe they mistook their ballot for the Hall of People Who Got Their Ass Handed To Them By Nolan Ryan That One Time. Ellis Burks and Eric Karros had multiple (read: 2) supporters.  Kevin Appier only had one vote. He struck me as at least a 4 vote man. No, 5.  Two people thought that Pat Hentgen and David Sequi were worth a vote.
David Sequi? I take that, more than anything listed above, as proof positive that the BBWAA should be disbanded and its remains dispatched via horseback to the four corners of the empire.