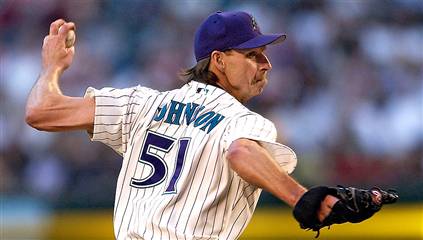 After a stellar 22-year career Randy Johnson, The Big Unit, announced his retirement this evening.  He finishes with a record of 303-166. He racked up 4,785 strikeouts.  He won five Cy Young Awards, four of which came back-to-back-to-back-to-back, in the first four years of what has to be just about the best free agent signing ever.  While Roger Clemens may have a few family members who would plead his case, most would agree that Johnson was the most dominating and intimidating pitcher of his era.
But to me, it's much more than the numbers that will define Randy Johnson's legend. It's the transformation.  I first saw Randy Johnson on TV as he pitched against the Braves on May 7, 1989.
I remember his performance distinctly, mostly because he was so damn
tall. Still, there was nothing about him that made me think the
guy would be in baseball in a year, let alone winning his 300th 20
years later. He was gangly and ineffective, going four innings, giving up six runs and walking six guys on the second worst offense in
the National League. When he was traded to the Mariners the following month I
thought "they gave up Mark Langston for that guy?" Mark Langston was an
All-Star who could strike guys out. Why on Earth would Seattle trade him for this wild beanpole?
Johnson slowly began to improve after the trade to Seattle, to the point where he was a genuinely average to slightly above average pitcher by 1992, though one who walked way, way too many guys.  He was 28 by then. I figured that he would peter out soon enough and would be remembered as a slightly better, left handed Bobby Witt.
Then something clicked, and after it clicked no one had a chance off of the guy for the next dozen years.
Johnson was always a difficult interview. Sometimes surly, but mostly just introspective and private. He wasn't the sort that would go on and on about his craft.  If he was, however, he'd probably have an awful lot to say on the subjects of determination and concentration and above all else hard work.  What's the knock on tall pitchers? That their mechanics are impossible because of their size? Tell me: was there anyone who had simpler, more fluid mechanics than Randy Johnson in his prime? Mastering those mechanics was the only way he'd ever go from an erratic gas thrower to a perennial Cy Young Award winner, and to do that had to take hours and hours of work.
Many people will be writing about Randy Johnson in the next couple of days, and when they do they will likely use the terms "gifted" and "overpowering" and "physical specimen."  And they'll be apt words because he was a gifted, overpowering physical specimen.
But most of us would have forgotten about the guy sometime in the mid-90s if he didn't work, likely harder than any pitcher has ever worked before or since, to transform himself from that gifted but erratic thrower I saw in 1989 to the inner-circle Hall of Famer he is today, on the day of his retirement.
Congratulations on a spectacular career, Mr. Johnson.  See you in Cooperstown in 2015.