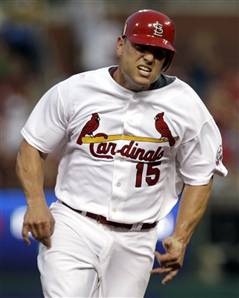 Yes, this Hot Stove drama is over. Jon Heyman of SI.com broke the news just under an hour ago, as Matt Holliday has agreed to a seven-year, $120 million contract with St. Louis. Holliday will receive $17 million per season, according to Matthew Leach of MLB.com, and a no-trade clause.
Holliday appeared on ESPN Radio just a short time ago confirming the signing, saying that it's actually for $119 million, but there is some language that could push it to $120 million. But hey, what's a million between friends? Either way, it's the biggest contract in club history.
"I felt like it was a good fit for me an my family," Holliday said on
the Doug Gottlieb show on ESPN. "I'm going back to the Cardinals. It
was very appealing to me. This has been a bit of a long process. There
are some emotional ups and downs that go with it. It hasn't exactly
been a walk in the park."
It's not quite Mark Teixeira-money, but Scott Boras got his client over the $100 million threshold and then some. Likewise, it's an important statement by the Cardinals organization,  as they attempt to keep Albert Pujols in the fold after his current contract expires at the end of the 2011 season.
Some will wonder what other legitimate offers Boras actually had on the table for his client since the Mets clearly preferred Jason Bay all along, but in the end both sides needed each other too much for this not to happen.