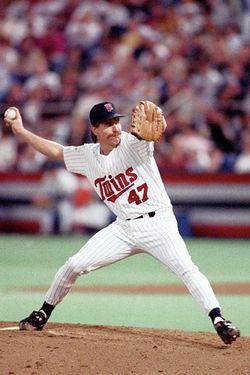 Now that the "most feared hitter" of the late-70s is in the Hall of Fame, the anti-stats crowd has found a new champion, moving right from Jim Rice to Jack Morris.
Morris first appeared on the ballot in 2000 and received 22.2 percent of the vote. After a slight dip in 2001, he's climbed steadily since, peaking at 44.0 percent last year. The only holdovers to receive a higher percentage of the vote were Andre Dawson (67.0), Bert Blyleven (62.7) and Lee Smith (44.5).
The case for Morris rests largely on two facts: he was the game's leading winner in the 1980s, picking up 162 victories, and he pitched one of the greatest games of all-time, throwing a 10-inning shutout in Game 7 of the 1991 World Series to propel the Twins past the Braves.
And that's mostly it. Morris did win 254 games in all, good for 42nd place all-time. He won 20 games three times and led the AL in victories twice, though the first time was in the strike-shortened 1981 season. He led the AL in innings once, in strikeouts once, in complete games once and in shutouts once. Also, he was a fine postseason pitcher apart from the game against the Braves, going 7-4 with a 3.80 ERA in 13 starts overall.
The case against him is obvious. He ended his career with a 3.90 ERA, which would be the highest ever for a Hall of Fame pitcher. His never finished higher than fifth in the AL in ERA. Some will argue that he pitched to the score and had higher ERAs as a result, but there's no evidence that the phenomenon ever existed.
His results in the Cy Young voting is also a strong point against him. Some have argued that the fact that he received votes in seven different seasons actually adds to his case, but that hardly computes.
Morris spent 18 seasons pitching in a 14-team American League. During that time, there were 504 Cy Young ballots cast. 504 chances for someone to consider Morris the best pitcher in the league in any given year. Morris claimed exactly five of those votes: two in 1983 and three in 1991.
Over the course of his career, Morris received 0.73 Cy Young shares. Cy Young shares are the cumulative total of one's percentage shares, so a unanimous Cy Young award winner would get 1.00 points, while the second-place finisher in any given year could get around 0.50 points. By that method, Morris ranks 69th during the Cy Young era (1956-present). No one among the post-1970 pitchers around him on that list will ever be thought of as Hall of Famers: John Denny, Mike Cuellar, LaMarr Hoyt, Pat Hentgen, Barry Zito, Bob Welch, Steve Stone, Dontrelle Willis, Mike Hampton, Pete Vukovich and Ramon Martinez.
The way I see it, if Morris had been born five years earlier or five years later, he would have fallen off the ballot by now. As is, he came into the league during a period which failed to produce any long-term stud starters, and that his production fit so neatly into a decade made for some fun stats. But in the end, he's not one of the 50 or so greatest pitchers in history and adding him to the Hall of Fame would lower the bar, just as did the vote for Rice did a year ago.
This is Morris' 11th of 15 years on the ballot, so realistically, he needs to take a big step forward right now if he's going to have a chance of being elected by the writers. Besides the sure-to-be overlooked Kevin Brown, there are no worthy pitchers set to debut on the ballot until 2013, giving Morris a window to sneak in. If he jumps from 44 percent to 60 or so this year, then it'd be no surprise to see him standing at the podium come 2012.