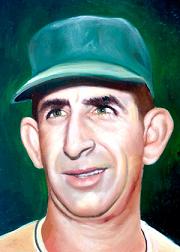 Normally if you get an unsolicited package in the mail from a group called "The National Ethnic Heritage Foundation in partnership with the Order of Sons of Italy in America," you're going to want someone else to open it. I got such a package today, but figuring that I have neither told anyone what I was thinking nor gone against the family recently, I figured I was pretty safe.  And I'm glad I opened the package. 
Inside: a baseball card set called "Italian American Baseball Heroes."  Rather than photos, the cards have oil portraits.  More than just the obvious subjects — DiMaggio, Berra, Rizzuto — the cover just about every paisan who hurled or hit the horsehide.  Don Mossi, as you can see to the right, was in there. So was Joe Pepitone. And Kevin Tapani and Bart Giamatti and Leo Mazzone and a bunch of other dudes. I've never seen a Leo Mazzone card. Guess he didn't stop rocking long enough for anyone to take his picture. There are 100 cards in the set.  For every DiMaggio there's like, five Tom Pagnozzi-level guys, including Pagnozzi.  The randomness of seeing middlin-at-best players given the same reverent treatment as DiMaggio and Berra is what I love the most about the set. You can see all of them here.
I'm assuming they were sent to me so that I'd promote them.  And normally I wouldn't. I don't do payola. This is a professional outfit here, and if you want to get advertising, you have to pay Mr. and Mrs. NBC to do it.  These cards, however are (a) kind of adorably ridiculous, so I want more people to know about them in the same way Joe Posnanski wants people to know about Snuggies; and (b) they aren't being sold commercially. As best I can gather, you can get them here or here in exchange for a donation of some type.
And you can do that if you want to or not. I don't care, and I don't endorse. I just want people to know that someone spent some quality time doing an oil painting of Don Mossi that going forward, will be prominently displayed on my desk.