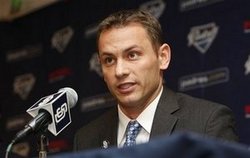 According to Bill Center of the San Diego Union-Tribune, the Padres have between $5 million-8 million left to spend on free agents this winter.
New general manager Jed Hoyer has spent most of his first offseason on
the sidelines, but he did manage to surprise many around baseball by inking Kevin Correia to a new contract last month.



While the funds available won't go far, Center expects to club to be active in the following areas:



Center field: Namely, a righty bat
to balance Tony Gwynn, who is a stretch as anything beyond a part-time outfielder. Reed
Johnson is a possibility there, but he also interests the Yankees as a
reserve.



Catcher: With Henry Blanco leaving
via free agency, the team seeks a veteran catcher to mentor 26-year-old
Nick Hundley. Center sees former Padre and San Diego County resident
Brad Ausmus as a natural fit, though the Padres have yet to contact him.



Middle infield: Center expects Hoyer
to find a veteran defensive specialist as rosters take shape around
baseball during spring training.



Pitching: With a young staff, the Padres could use a veteran presence.



With the odds of an offseason trade
in doubt, the roster likely won't look much different than what the
club had at the end of the 2009 season. Rumors about an Adrian Gonzalez
trade have been based more on hype than reality and the market for Kevin
Kouzmanoff has taken a hit with several teams filling their
need at the hot corner and Adrian Beltre and Miguel Tejada still
available as a free agents. It all adds up to a pretty underwhelming offseason, but the Padres are hoping to progress from a 37-25 finish to their 2009 campaign.