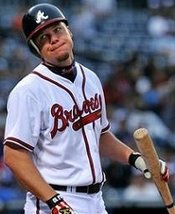 Chipper Jones sat for a wide-ranging interview with Dave O'Brien of the Atlanta Journal-Constitution.  Among the nuggets:
He's spent a lot of his offseason hunting. Shocking.
Despite what a lot of Braves fans thought last year, he wasn't hiding an injury or anything. His season-long slump was merely a function of things not coming together. While some Braves fans may be worried about that — could it mean that Chipper is just on the decline?! — I'm not. The dude simply hasn't had any practice hitting when all of his body parts are functioning properly, so it was a new and foreign experience for the guy.  Want a good Chipper Jones season in 2010? Hope he pulls a hamstring in March that never really heals all season. He's used to that. He'll probably hit .309 with 27 homers that way.
Despite just starting his three-year, $42 million extension, Jones is "on a year-to-year basis right now." If he doesn't produce this year, he'll quit. Based on everything I know about the guy, I believe him. Unlike many superstars, he has a pretty full life outside of baseball. Businesses, ranches and stuff like that. He says here that he's sick of living out of suitcases and that "there's certain
politics that go with playing this game that I don't want to have to deal
with."  I wouldn't be at all surprised if Jones walks after 2010.
As for his post-playing career, he says "I don't think you could pay me enough money to
manage, to be honest with you [Jones laughs], after seeing what managing has
done to Bobby [Cox]."  Interesting observation, but I think that may be more a function of being Bobby Cox than managing. I got to meet Cox at the Winter Meetings. He's roughly my dad's age — late 60s — but he seems like he's in his 80s in many respects. Tony La Russa is only a couple of years younger than Cox and has been managing just as long, and he seems like he's 40 (dresses like he's 20). I imagine that, like almost every job, in managing, the stress you take is equal to the stress you make.
Despite some lip service about moving "for the right personnel," there's no way he's leaving third base. I think the Braves really screwed this one up major for Jones several years ago when they put him in left field for Vinny freakin' Castilla of all people. You don't move a Hall of Famer for a schlub like that. By doing so, the team soured Jones on the very idea of moving to first base at some point, to where now he wouldn't do it unless a wormhole sent a 27 year-old Mike Schmidt forward in time to Atlanta in 2010.
I'm cautiously optimistic for something of a comeback season for Jones. Not a comeback to MVP-candidate Chipper Jones, but maybe a late-era Al Kaline kind of thing where he misses a good chunk of time due to age and breakdown but still manages to hit .300 and be productive.  Will that be good enough for him to stay in the game beyond 2010? Tough call. Right now I'd say it's 50-50.