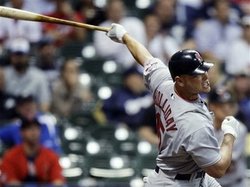 Yesterday I said "Holliday signs with St. Louis in the next 48 hours, right?" Fine, make it next week, but the end game approacheth
Last night Derrick Goold of the Post-Dispatch reported
that the Cardinals and Matt Holliday are "working toward an agreement
that multiple sources described as gaining momentum." There is no
indication that the deal they're working on is based on any offer other
than the original Cardinals offer from several weeks ago. There is no
suggestion of other teams talking to the Holliday camp.
Indeed, assuming there are substantive talks finally happening between Holliday and the Cards, yesterday's stuff about there being other teams involved makes perfect sense: Boras needs to be able to tell
the Cardinals that there are other teams involved in order to get a bit of leverage, and needs a couple
of reports he can hold up in an effort to support the assertion.  So
what happens? Someone floats the Orioles story to Ringolsby so Boras can claim that Baltimore is interested. Someone floats the "other teams" thing to Heyman
so Boras can point to more. The funny part? I suspect that the quick
debunking of the Orioles report yesterday actually helped move these
negotiations along, in that it rendered the "other teams" gambit
transparent and forced Boras to stop playing and get down to brass tacks.
Ultimately, Holliday is going to get a big deal out of the Cardinals,
maybe as early as today. I suspect, however, that the deal is going to
hew pretty closely to the last offer the Cardinals made him, and that
there never really was any serious interest from other teams.