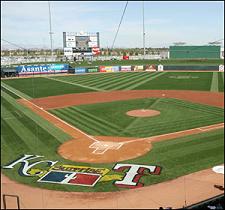 This spring there will be 15 teams training in Arizona and 15 training in Florida. As many teams outside of Florida as in is a first, and Florida politicians don't like it:
It's a trend that concerns Florida tourism officials and lawmakers, who
are determined to keep the Grapefruit League's 15 teams, if not entice
others to join. Earlier this month, Gov. Charlie Crist met with owners
of the Chicago Cubs and promised to "do whatever it takes" to lure them
to the Naples area for spring training . . . Legislation being drafted would create a pool of money the state can
use to award matching grants to communities and teams that want to
build stadiums or renovate existing facilities.
I don't want to launch a giant political debate, but can I ask why government intervention in business is almost always viciously attacked, but no one ever cries "socialism" when they give money to billionaires to build ballparks?
Anyway, I don't know that there's much of anything that can be done to stop the movement west. Yes, I suppose there's some baseline that we won't go under in Florida due to eastern seaboard teams wanting to cater to retirees and vacationers who overwhelmingly choose to go to Florida over other places, but by all accounts Arizona has Florida beat as far as spring training experiences go.
Why? Because the facilities are all clustered around Phoenix, thereby cutting down on travel time and expense while concentrating the teams in a more densely-populated area.  The weather is more predictable.  I've heard Floridians say that Grapefruit Leaguers get in better shape because they sweat more there, but that sounds like a bogus reach to my untrained ears. I'm guessing an exercise physiologist could debunk it on the back of a napkin. Exertion is exertion.
But the biggest thing keeping the tide from turning is that public money. According to a pretty nifty book I read last spring, through early 2009, Arizona had spent roughly $250 million in public money building and improving
spring training facilities for major league baseball teams (they no doubt spent more this year to finish off the Reds' portion of the new Arizona facility they share with the Indians). Florida has
spent too, but probably $100 million less than Arizona has.
So, my recession and housing-market-bust-crippled Floridian readers: You want your state to spend another $100 million — and likely much more — to lure the major leaguers back for a couple months each year?  I wouldn't. Let 'em go to Arizona. If you want to see them so bad, hop a flight to Phoenix. They're pretty cheap, actually.