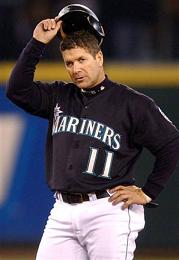 It's Edgar Martinez's first year of eligibility this year. Today Michael Weddell has a comprehensive statistical breakdown/Hall of Fame analysis of the guy at The Baseball Analysts. Weddell believes he is a Hall of Famer and makes a pretty strong case to back it up.
I think I'm convinced that Martinez is a Hall of Famer, but as the first truly viable full-time DH candidate, he obviously raises some interesting questions. I'd be shocked if the BBWAA voted him in this year, but unlike some other guys I'm in favor of, I'm not going to get terribly bent out of shape if they make him wait.  Not because of some "he's no first ballot Hall of Famer" politics — I think that's silly — but because I think it's really worth having the DH conversation last a while to make sure everyone is at least speaking the same language.
That language mostly surrounds the question of just how much — in specific terms — defense matters.  And it's not just a question that we need to ask about DHs like Martinez and Frank Thomas and David Ortiz. It's a question we should ask about any candidate, be it Martinez, Omar Vizquel, Keith Hernandez or Andre Dawson.  To date, the best most people can manage is either "and he had a great glove, too!" or "he wasn't that good defensively," and that just doesn't seem to cut it for me.  How great was that glove? Did it sufficiently overcome his weak bat? Did his bat offset his bad glove, or complete lack thereof?
My fear, however, is that people will fall into one of two camps: the one that says "no DH should make the Hall of Fame" or the one that considers DHs, but evaluates them like any first baseman or outfielder and doesn't make a downwards adjustment in the guy's value for his non-existent defensive value.
Both approaches would be wrong.  Maybe having Martinez on the ballot for a few years would lead to fewer people defaulting to them.