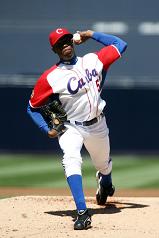 Sharp observation by ESPN's Jorge Arangure, Jr.:  If Aroldis Chapman doesn't sign a deal and receive his bonus by Thursday at midnight, he's going to get a multi-million dollar tax bill that he could have totally avoided.
Why? Because, Arangure reports, signing bonuses that are received outside the U.S., by a non-U.S.
resident, and in a tax year in which the person did not work in the
U.S., are not subject to U.S. taxation.  Chapman currently lives in tax-free Andorra. He hasn't pitched in the U.S. Thus, any money he makes in 2009 can't be taxed in the U.S. He will, however, work in the U.S. in 2010, so he will be subject to U.S. taxation on all earnings after the first of the year regardless of where he lives.   If, as expected, he gets tens of millions of dollars, that's going to be a several million-dollar tax bill.
Arangure's source on this, agent Joe Kehoskie, says "As far as I'm aware, neither the Hendricks brothers nor Rodney
Fernandez (who represent Chapman) have ever completed a contract for a
foreign free agent, so I bet this issue flew right under their radar."
Maybe. But it may simply be that the market just hasn't developed for Chapman like everyone thinks it eventually will, and that rushing to save a couple million in taxes now could cost him several more million in the value of the contract he ultimately signs.
Still, somewhere, the agent that Chapman fired to sign with the Hendricks brothers is smiling. And amending his lawsuit to claim that if he were still representing Chapman, he would have imposed a December 31st deadline to all interested clubs in an effort to avoid the bill.