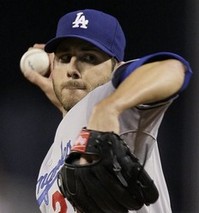 In his usual Sunday column of baseball notes for the Boston
Globe, Nick Cafardo writes that a market is beginning to develop for
free agent right-hander Jon Garland, with the Rangers emerging as the early front-runner.



Garland, 30, was 11-13 with a 4.01
ERA and 1.40 WHIP last season, including a 2.72 ERA in six starts with
the Dodgers down the stretch. Though his career ERA sits at 4.42,
Garland is one of the most reliable secondary starters around, logging
at least 32 starts and 191 2/3 innings in each of the past eight
seasons.



Staying in the National League would
be beneficial for his career, but with the Nationals most likely
out of the running after the Jason Marquis signing, he might not have
much of a choice. Like Marquis, at least Garland has the reputation as a
groundball pitcher, so he'd be a better addition than say, Jarrod
Washburn, for the homer-happy Ballpark at Arlington. Appropriately
enough, Jason Marquis' two-year, $15 million deal with Washington is a
pretty good benchmark for what Garland figures to find in free agency.
Garland earned $7.25 million last season.