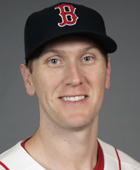 The Boston Red Sox loaded up on pitching and defense this offseason by bringing in John Lackey, Marco Scutaro and Mike Cameron, then said they were pretty much done with Jason Bay. But guess what? Even the great Theo Epstein can change his mind.
According to the Boston Herald (via our sharp-eyed friends at Rotoworld) the Red Sox are looking at their financial picture to see if they can find enough creativity to increase their offers to either Bay or Matt Holliday.
Previous reports had Boston offering Bay a 4-year deal worth $60 million, and Holliday a 5-year deal for $82.5 million, both rejected with hardly a thought.
Increasing their offer to either player would put the Red Sox at risk of crossing the $170-million luxury tax threshold, and it certainly doesn't help that the team was unable to unload Mike Lowell to the Rangers.
The other issue is finding a place for Bay or Holliday to play, as the team already has J.D. Drew, Jacoby Ellsbury and Mike Cameron under contract for nearly $22 million. Something, it seems, would have to give.
Examining your financial picture is certainly not the same as preparing an offer, so we'll see if this talk leads to anything at all. The prudent advice might be for the Red Sox to go into the season with what they have, not panic in response to the Yankees' moves, and look at making mid-season deals if necessary.
Interestingly, Yankees GM Brian Cashman said on Tuesday that he would not be looking to add a big contract to replace a green Brett Gardner in left field. One wonders if the Red Sox jumping into the fray – should they indeed jump — would change philosophies in the Bronx.
Follow me on Twitter at @bharks.