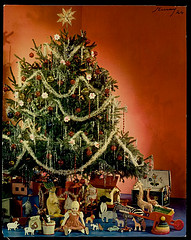 Or tweeting, even.  Yes, even the hyperactive hot stove season sleeps sometimes, and it appears as though it has gone to sleep for Christmas as of late this morning.  Oh, someone may still be doing some last minute shopping — at least one store is open, with plenty left on the shelves — but most of anyone who matters in baseball is home with their families enjoying some quiet time. As they should be.  And as you should too, if you're able and fortunate enough to do so.
If someone gets restless and decides to do something — there are still some relievers Anaheim hasn't signed yet — one of us will do a quick post about it, but as for now, we're knocking off.
I can't speak for Aaron, Matthew, D.J. or Bob, but later this evening I'll be pouring some brown liquor over ice and watching Jimmy Stewart and Donna Reed do their thing.  Then I'm going to go to sleep, hoping that Santa Claus brings my Braves Matt Holliday with some insane back-loaded contract or something.  Hope you get what you asked for too.
Merry Christmas, everyone.