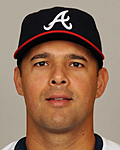 Multiple sources, including Sports Illustrated's Jon Heyman, the New York Post's Joel Sherman and the Daily News' Mark Feinsand are reporting that the Yankees and Braves have agreed to a trade in which the Braves will send starter Javier Vazquez and reliever Boone Logan to the Yankees in exchange for Melky Cabrera, lefty Mike Dunn and an as yet unnamed prospect. UPDATE: Joel Sherman tweets that the prospect is righty pitcher Arodys Vizcaino, who he says impressed in a short season for Staten Island this year. [random thought: with that name, how many Braves fans can I fool by saying that they got "Arod" from the Yankees?]
Instant analysis: the Braves and their fans would probably rather have Nick Swisher, but Melky may translate well to the NL, and Nate McLouth — despite his gold glove — could slide over to left field where he probably belongs.  For the Yankees, Vazquez would help fill out a rotation that currently looks light once you get beyond Sabathia and Burnett.  Pettitte is going to crater one of these days. I've never bought the notion that the Yankees would put both Joba Chamberlain and Phil Hughes in the rotation. Chad Gaudin and Sergio Mitre are not exactly championship starters.
The big question: did the Yankees buy-high on Vazquez? He's coming off his best season and given his strikeout rate, there's good reason to believe that he'll be highly effective in 2010. But he does give up a lot of dingers, and that will only get worse in the bandbox that is New Yankee Stadium.
Ultimately, however, Melky Cabrera is eminently replaceable, and Vazquez solidifies the rotation, which was one of Brian Cashman's top priorities, so it's a good deal for New York, even if the talk radio freaks will be complaining about his performance in 2004 all day.