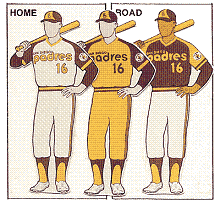 And I don't mean mustard:
Thursday afternoons at PETCO Park will be a blast from the past for Padres fans.

For six midday tilts, the Padres will sport the brown and mustard
uniforms of 1970s or '80s vintage, according to a report by The
Associated Press citing team president Tom Garfinkel as a source.
When people think of the ugly old Padres uniforms they tend to mash them all together in their memories as one ugly brownish yellow blob. But there were several significant variations on the theme, ranging from all yellow, to all brown, to something in between. And they weren't all ugly. I'm rather partial to the 1976-77 model which, in addition to mixing the colors in optimal fashion, eschewed those awful typefaces of 1978 and beyond.
The all yellow was something ugly to behold, but at least it had flair. I think the worst was the 1991-2001 pinstripes. San Diego is one of the more laid back towns I've ever been to. Pinstripes should be outlawed there.
For this throwback feature, however, the choices will be limited to three, with fans voting to decide which one ultimately graces the Friars on the field. The choices: those 1978 duds mentioned above, or the white
jersey/white pants combo from the 1984 pennant team, which aren't terribly different.
Blah. Go with 1976. Much more stylish.