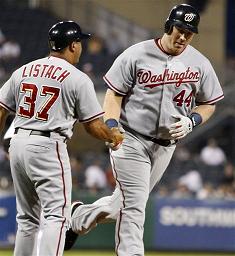 Some fun Adam Dunn chatter in the past few days, with Nationals' President Stan Kasten saying that if Dunner wants a contract extension in Washington, he'll have to improve his defense at first base, where he'll probably be assigned on a permanent basis going forward. Dunn, who is a pretty agreeable fellow, agreed, saying that he knows he needs to get better at first and will dedicate his spring training to doing so. Over the weekend, Nats' manager Jim Riggleman gave what sounds like an overly-rosy assessment of where Dunn currently stands as a first baseman, basically saying that range is his only problem.
So, is there any hope at all for Adam Dunn, full-time first baseman?
Probably not.  Certainly not if you go by Fangraphs' Ultimate Zone Rating — commonly abbreviated to UZR — which quantifies the number of runs above or below average a fielder is after accounting for both range and sure handedness.  No defense stat is perfect, but UZR is generally considered by those who care about such things to be pretty darn good.
Over the course of his career, Dunn has played approximately a full season's worth of games at first base.  Dunn's UZR over that time?  -17.9 per 150 games.  To put that in perspective, the worst first baseman in UZR per 150 games last season was Billy Butler at -7.4.  Only twice in the eight years for which Fangraphs has UZR data has anyone recorded a UZR/150 as bad as Adam Dunn's career mark: Mike Jacobs in 2008 and Adam LaRoche in 2005, and both of those were severe outliers when compared to the rest of those guys' careers.
I don't think it's a stretch to say that Adam Dunn will be the worst defensive first baseman in baseball in 2010. He may challenge for the title of all-time worst.  Perhaps he will do less damage there than he will in left field, but if the Nats have any plan for Dunn in 2010 that does not involve hoping he hits like crazy in April and May and trying to trade him to the AL in June, they're nuts.